Here is our blog of recent events and some of our lighter moments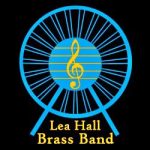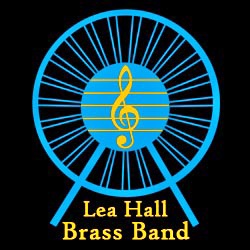 Rugeley Artisan Town Market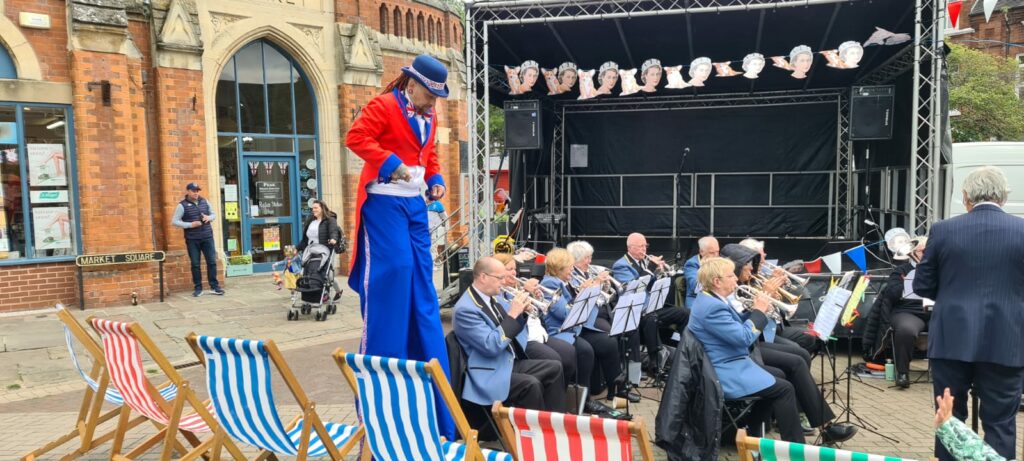 Anzac Day 2022
Sunday 24th April – We we're honoured and privileged to join the local community to pay our respects to the fallen.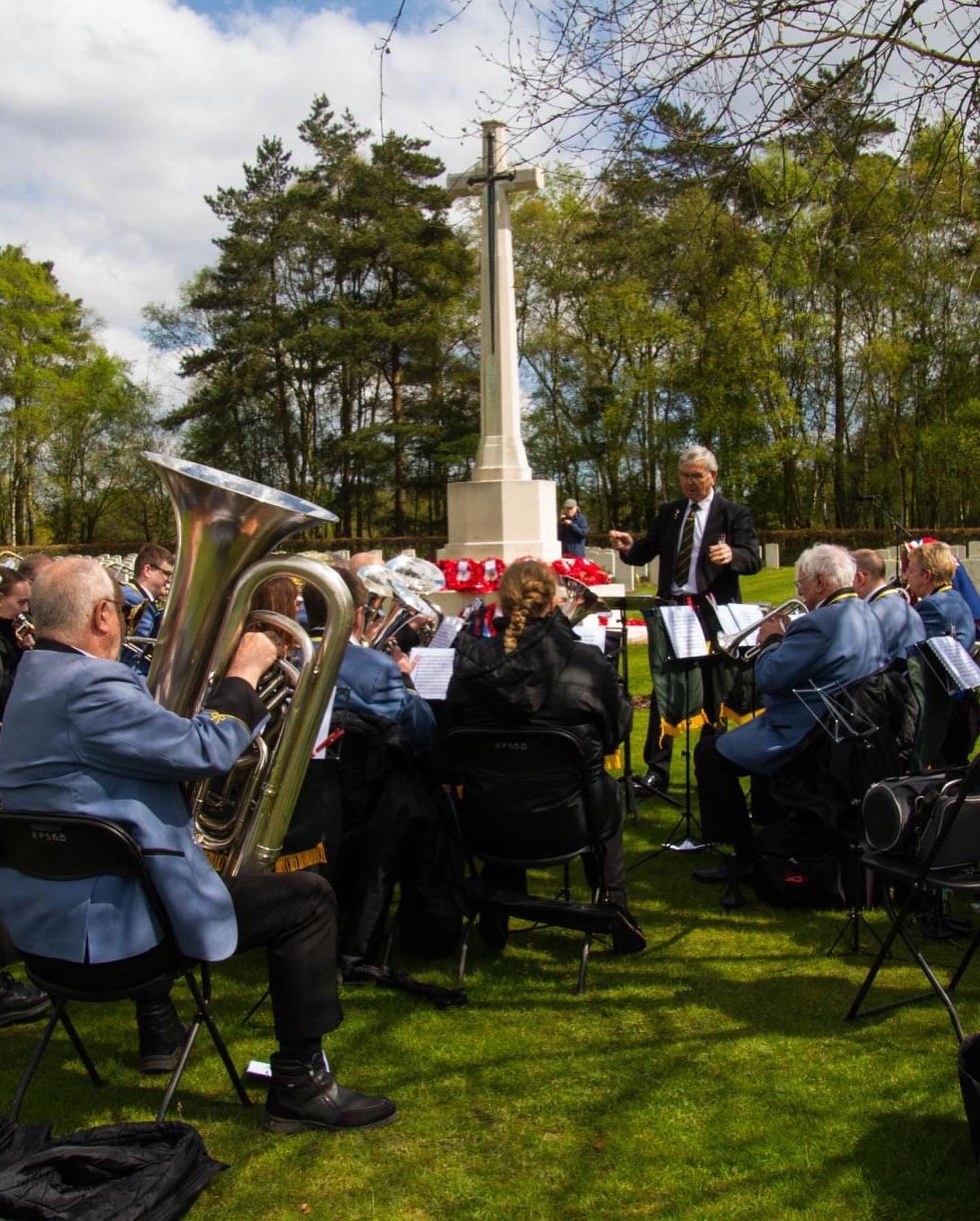 We resumed under full steam in 2022 full of optimism for the year ahead as the country continues to come out of covid restrictions.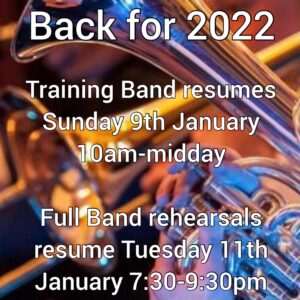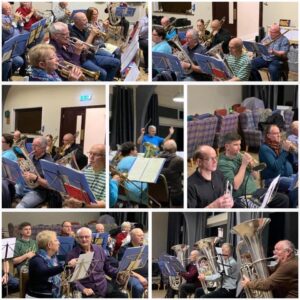 Victory Church Rugeley Christmas Concert- 19th December 2021
This is always a great evening full of festive fun with our friends at Victory Church. This year we were delighted that our training band made their debut at this concert.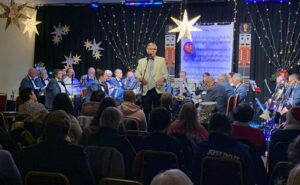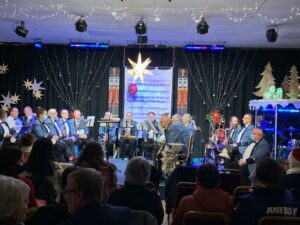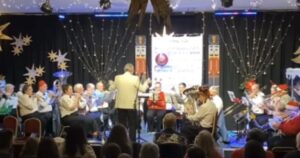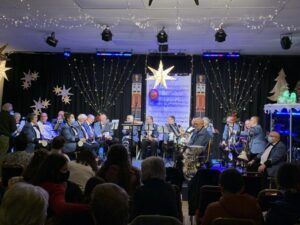 Training band make their debut at Victory Church Christmas Concert.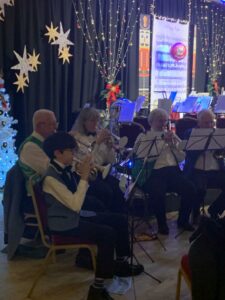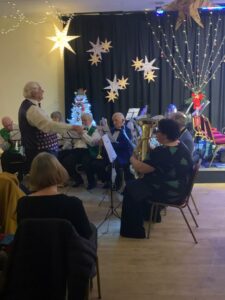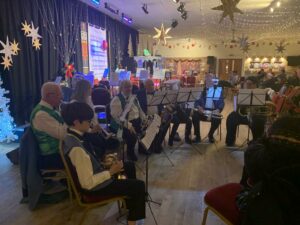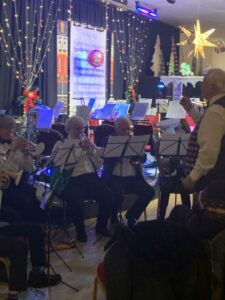 Amazon Rugeley – various dates December 2021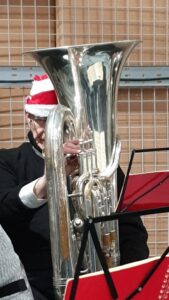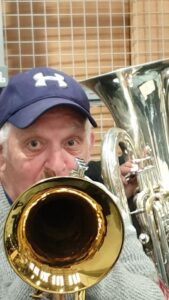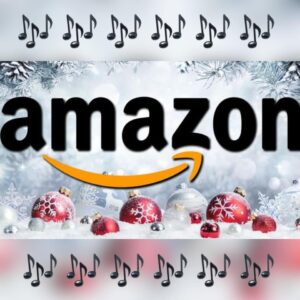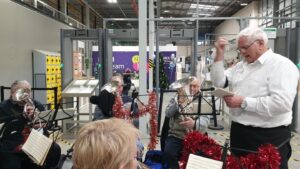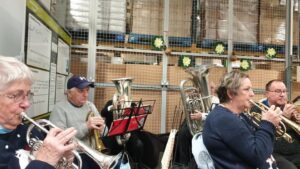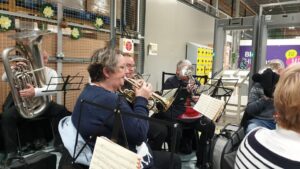 Littleton Lodge Care Home 13th December 2022
Today we gave something back to our local community and chose Littleton Lodge Care Home to receive our services as we performed classic Christmas Carols for the lovely residents and staff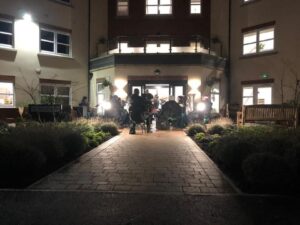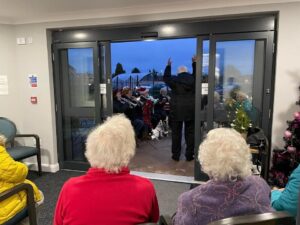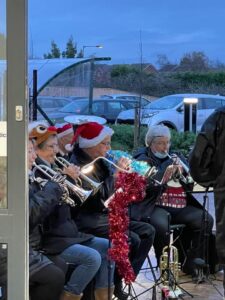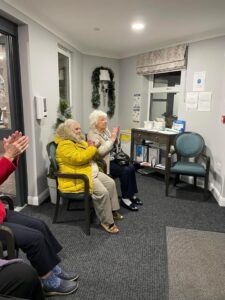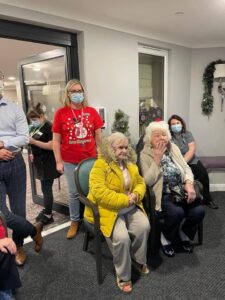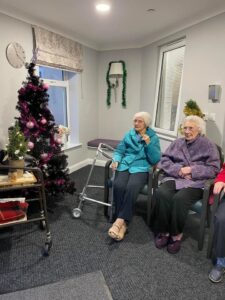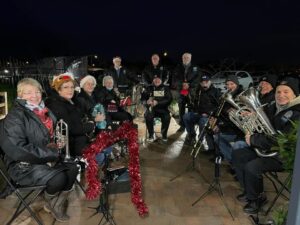 Katharine House Hospice Stafford Light Up A Life 12th December 2021
Always an honour to join family, friends and staff as we Light Up A Life in remembrance of loved ones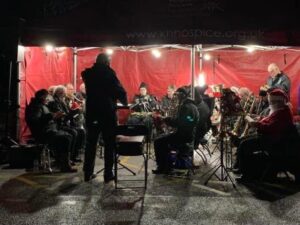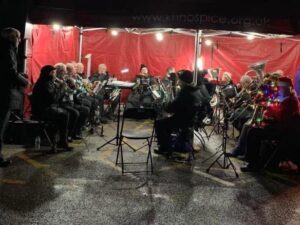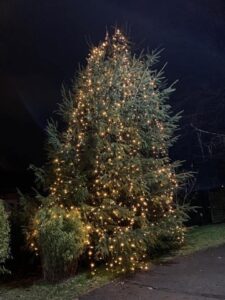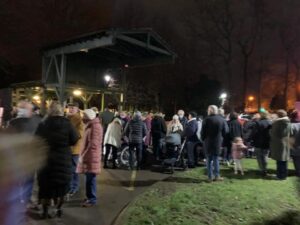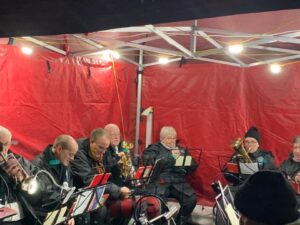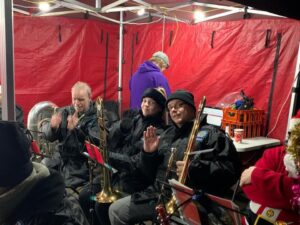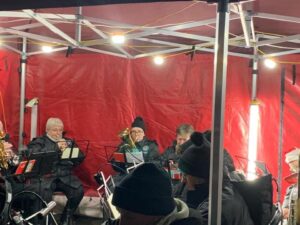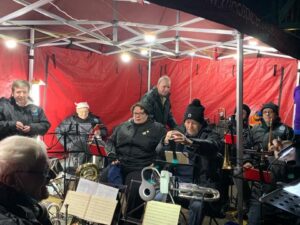 Plant Pot Garden Centre Lichfield 11th December 2021
We provided Christmas tunes for the staff and Christmas shoppers at Plant Pot Garden Centre on a busy weekend before Christmas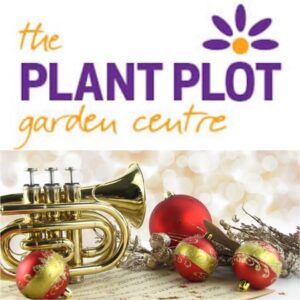 Longdon Village Elf Trail 5th December 2021
We had great fun, when we joined St James' PTFA for a festive singalong to draw their annual Elf Trail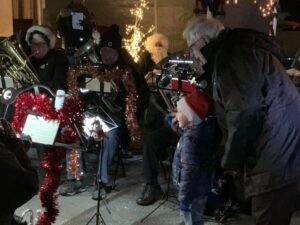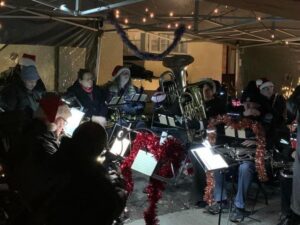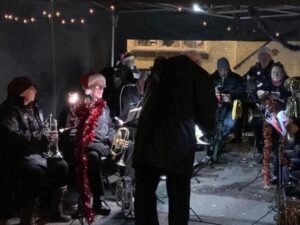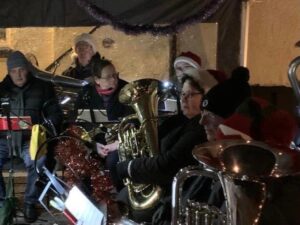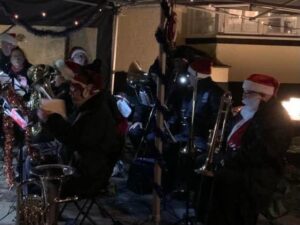 Hill Ridware WI Christmas Concert 26th November 2021
We were delighted to get our 2021 Christmas program off to a very festive start with our good friends at Hill Ridware WI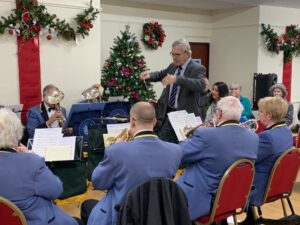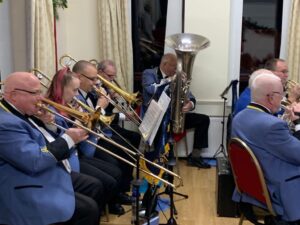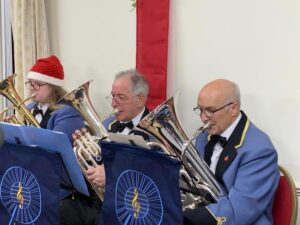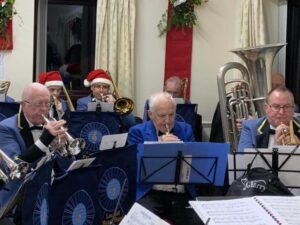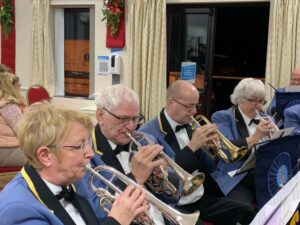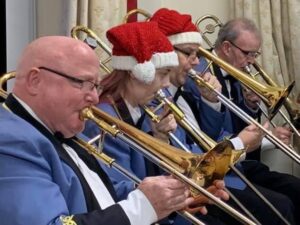 Full Band Rehearsal 19th November 2021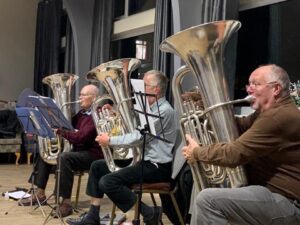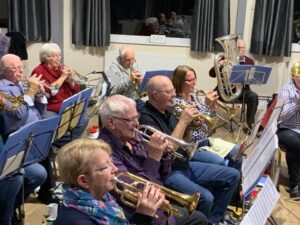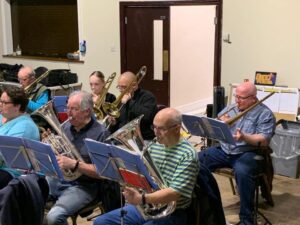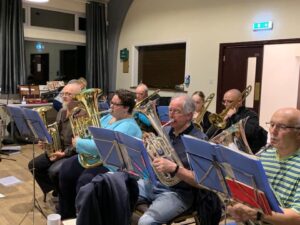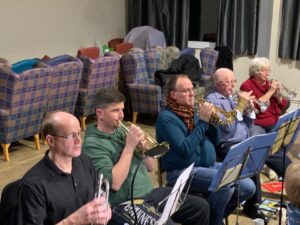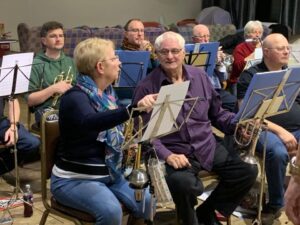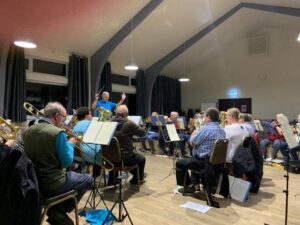 Remembrance Sunday 14th November 2021 – Bloxwich Cenotaph
We were honoured to join residents and community groups of Bloxwich to pay our respect to the fallen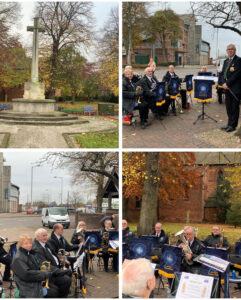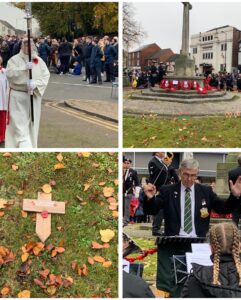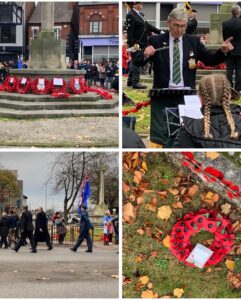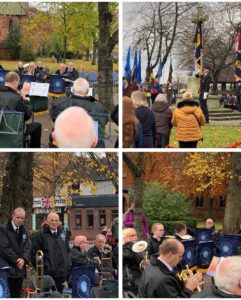 Saturday 18th September 2021
Delighted to perform for our friends at Rugeley Rifle Club for their AGM and Annual Awards Evening.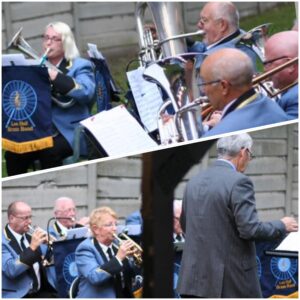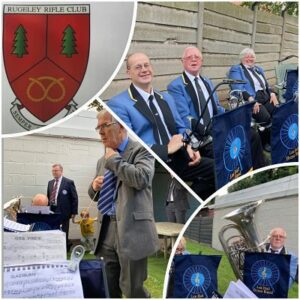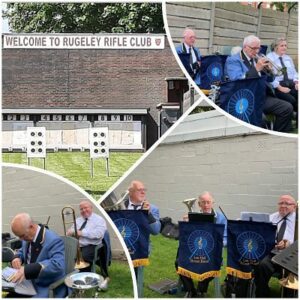 Wednesday 15th September 2021
We were pleased to support colleagues at Rugeley Amazon as they celebrated their tenth year of operations in Rugeley.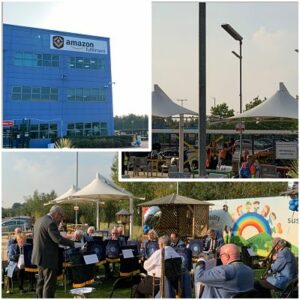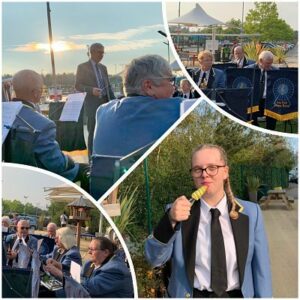 Saturday 4th September 2021
Back with our friends at Hamstall Ridware for a quintessentially English Afternoon Village Fete.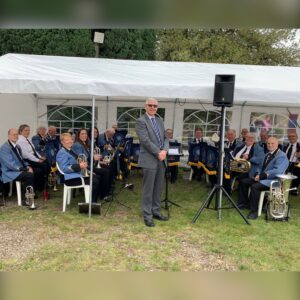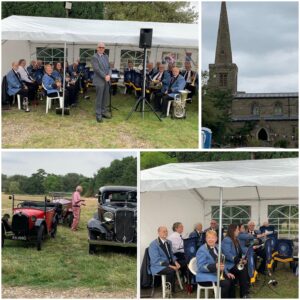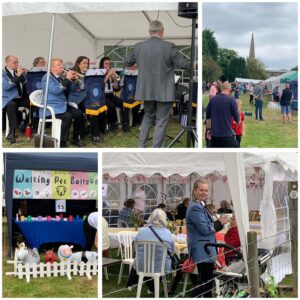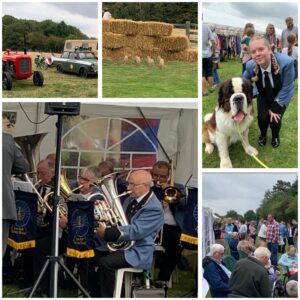 Friday 3rd September 2021
We were honoured and privileged to be performing for CHAPS (Chase Arts for Public Places) at the official unveiling / dedication ceremony of the newly commissioned National Miners Memorial at The National Memorial Arboretum. The dedication was overseen by Their Royal Highnesses The Duke and Duchess of Gloucester.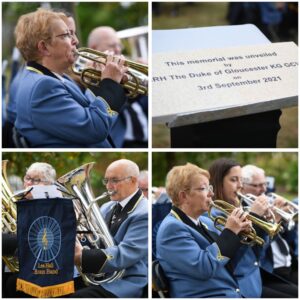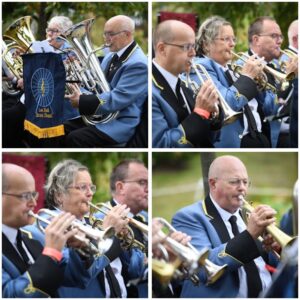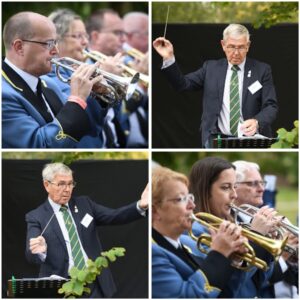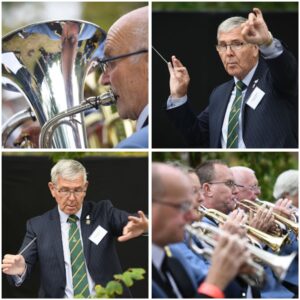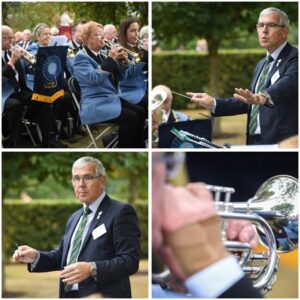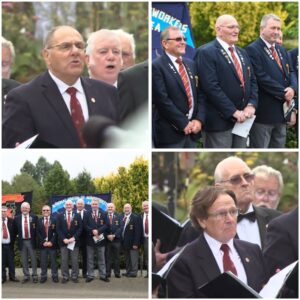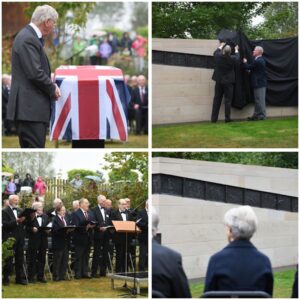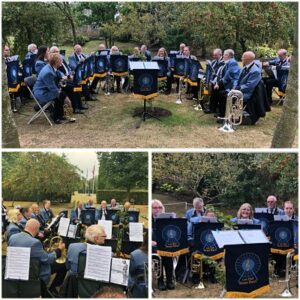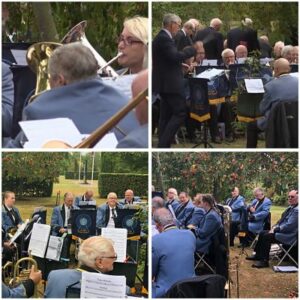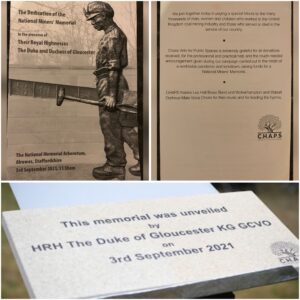 25th / 26th August 2021
We were delighted to return to Staffordshire County Show this year, following the restrictions of 2020 and considering it was the first time in the shows history that the event was held in August, it was a tremendous Show.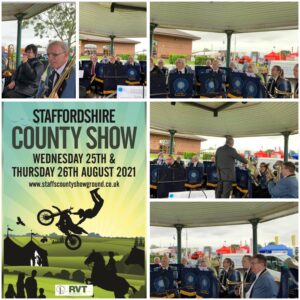 (two days on the bandstand)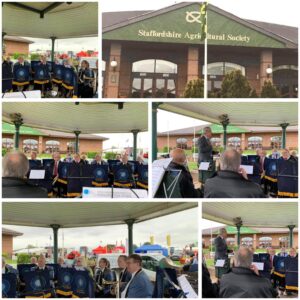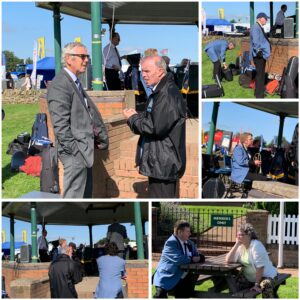 (Between performances)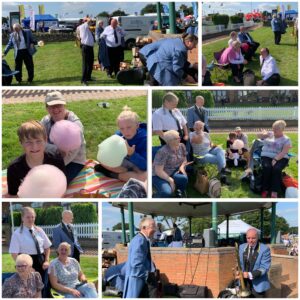 (fun in the sun with our banding families)
Tuesday 28th July 2021
Cracking rehearsal tonight 🎺🎶
Great to be back in full swing and terrific to be able to meet up for a well earned 'post-rehearsal' drink 🍺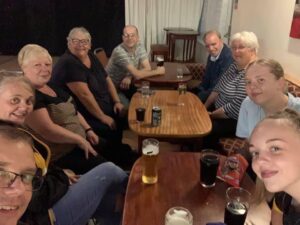 Tuesday 21st July 2021
Heat wave ☀️ No problem…
We held a wonderful outdoor rehearsal last night 🎺🎶 and our thanks to John Inglis for stepping in to conduct.
Great to welcome some returning members and delighted to welcome new players again
So a very warm LHBB welcome to Nicky on tenor horn 🎵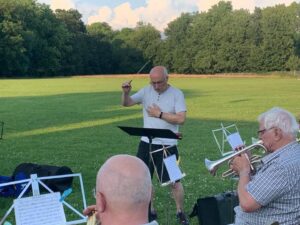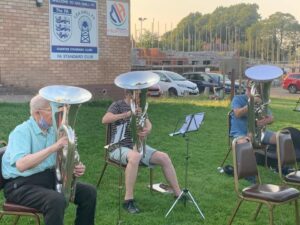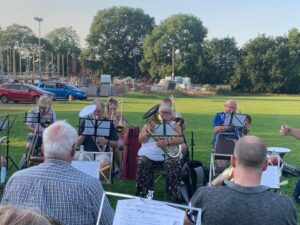 Tuesday 25th May 2021
Well, we held our first rehearsal for 14 months tonight and it was terrific to be back together.
Excellent turnout and great to see everyone again.
Certainly very different with covid safe protocols but everyone felt safe and comfortable.
Delighted to welcome some new players too, so a very warm welcome to Andrew & Samantha.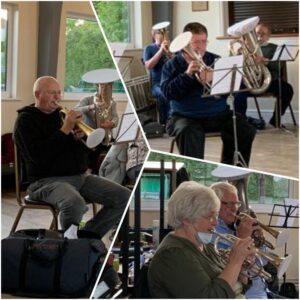 Tuesday 27th October 2020
Our first outing since February and we were privileged to perform at The Grange Residential Home for Iris Parrish who celebrated her 100th Birthday.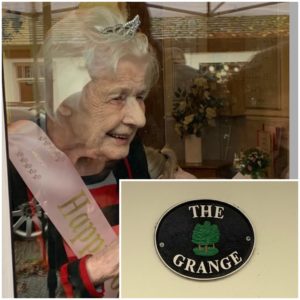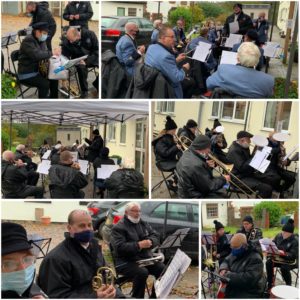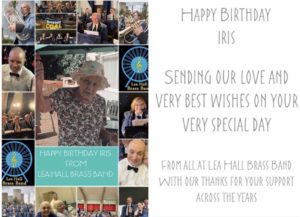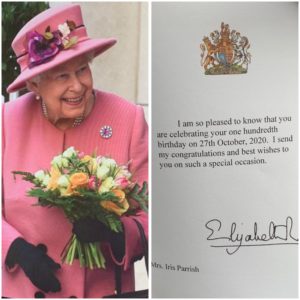 Summer 2020 – LOCKDOWN
Due to the Covid-19 restrictions we have been unable to meet, rehearse or perform since March 2020. Our playing members remain busy practicing at home, so we will be ready to perform once restrictions are lifted.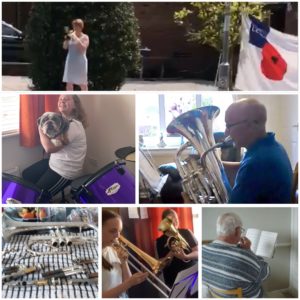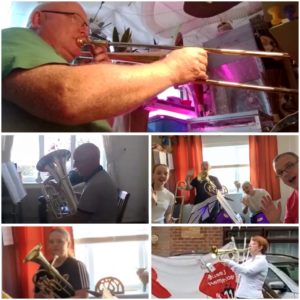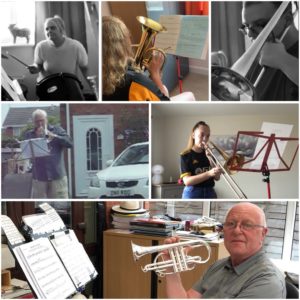 Sunday 2nd February 2020
We started our 2020 season performing for Chase Arts for Public Spaces during their fundraising Mining Memorabilia Auction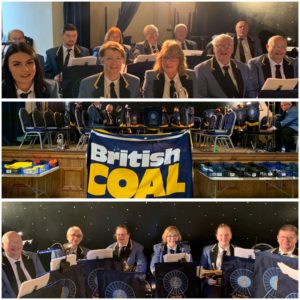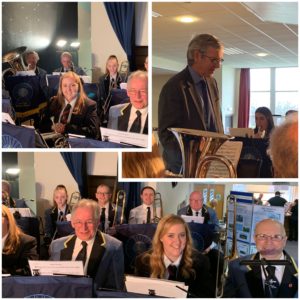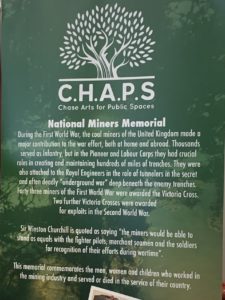 We closed 2019 with our Year-End After Party – 2019 was a great season for us.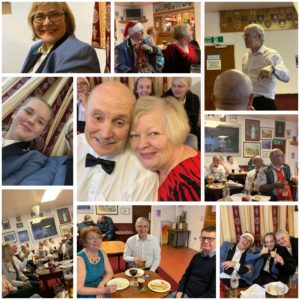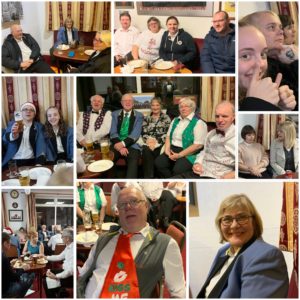 Final concert of 2019 – Victory Church Rugeley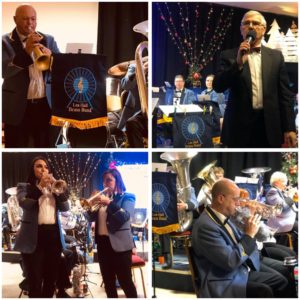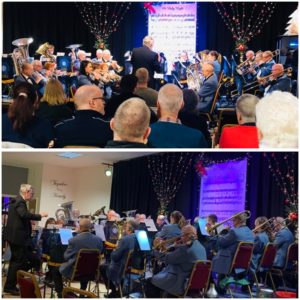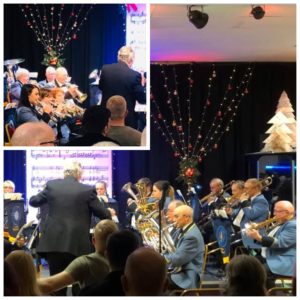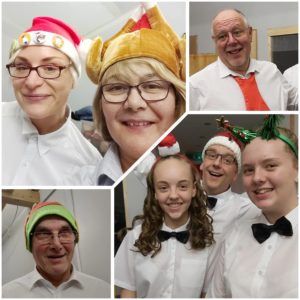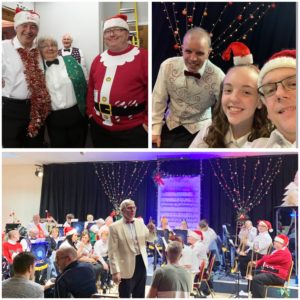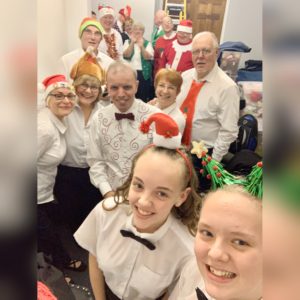 Friday 13th December – Christmas Carols Tesco Hednesford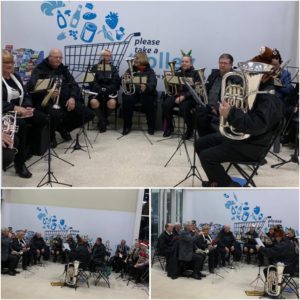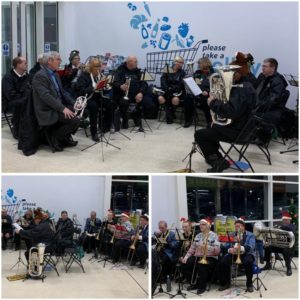 Sunday 8th December – Light-Up-A-Life
Katharine House Hospice, Stafford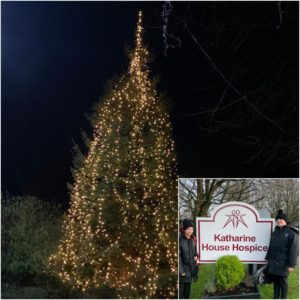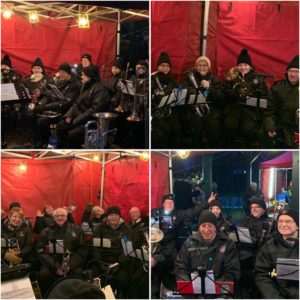 Saturday 7th December 2019 – busy bringing some Christmas Cheer to Rugeley Town Centre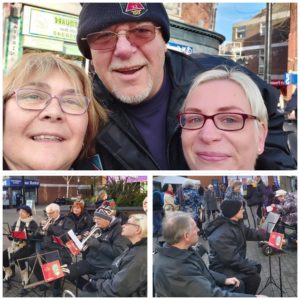 Christmas at Hill Ridware WI
28th November 2019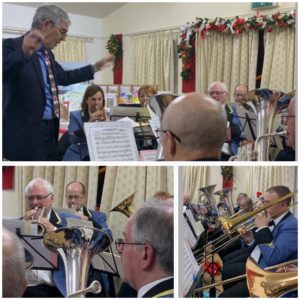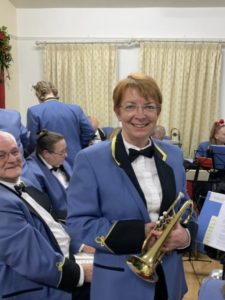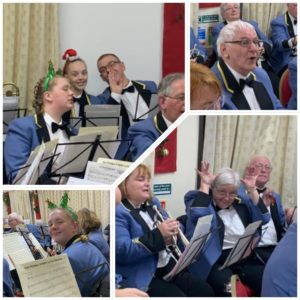 Remembrance Sunday 2019 – Bloxwich
We respectfully joined residents and community groups of Bloxwich to pay respect to the fallen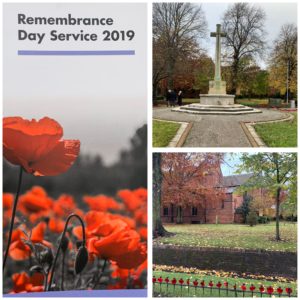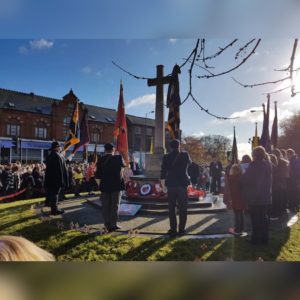 November 2019 – Rugeley Remembers
We proudly supported Rugeley Town in the lead up to Remembrance Day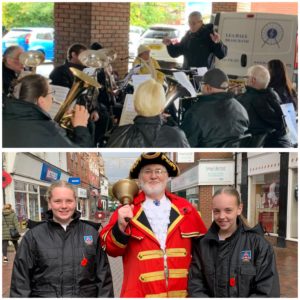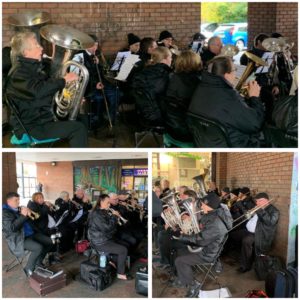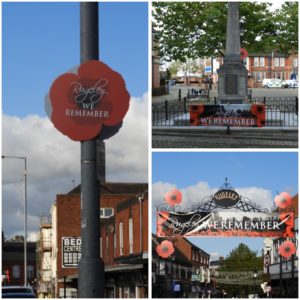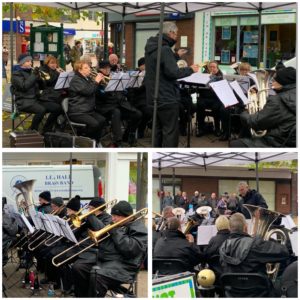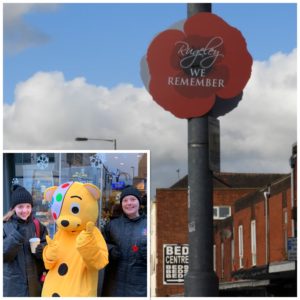 21st September 2019 – a perennial favourite of ours as we were delighted to return to Gnosall & Newport Lions-Club for their 2019 Proms Concert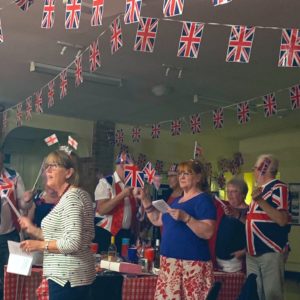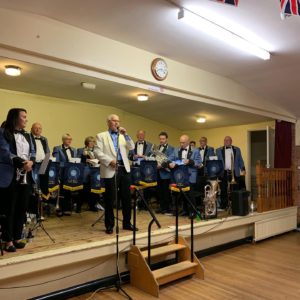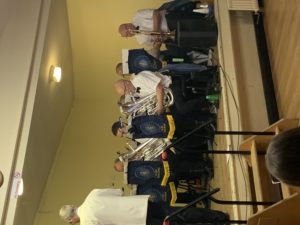 September – Lea Hall Social-Club Open Day It was great to meet some new prospective players and we look forward to seeing you at training-band or full rehearsal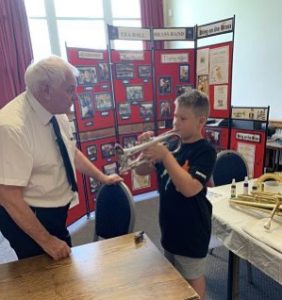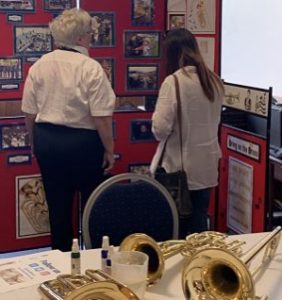 August-19 – rehearsals continue throughout the summer as we look forward to a busy Autumn programme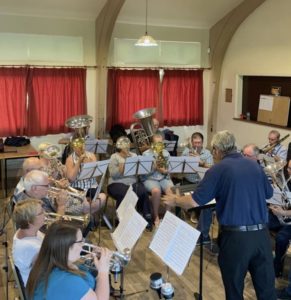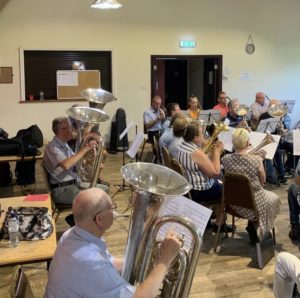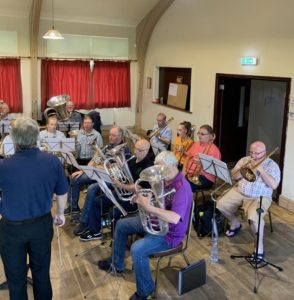 Sunday 16th June – Back on home turf and privileged to perform at the unveiling of the Lea Hall Miners Memorial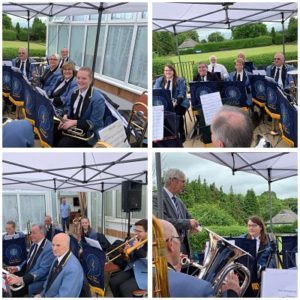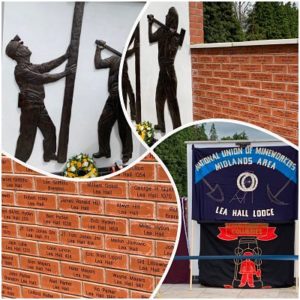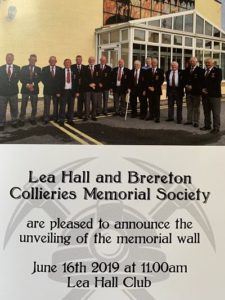 Not forgetting our pre-performance sound-check with last minute directions from our very engaging Musical Director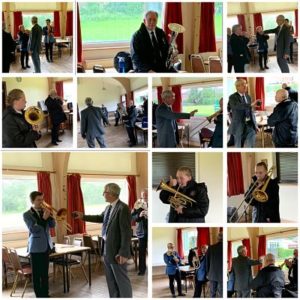 8th June 2019 we were pleased to be invited back to Hamstall Ridware Village Fete – always a pleasure to perform at this quintessentially English Summer Fete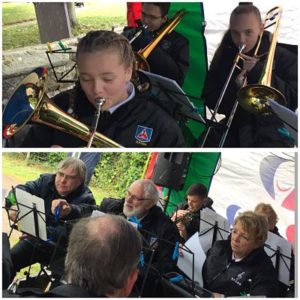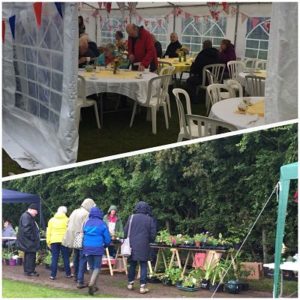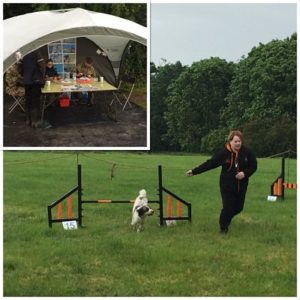 29th & 30th May 2019 – great couple of days on the Bandstand at Staffordshire County Show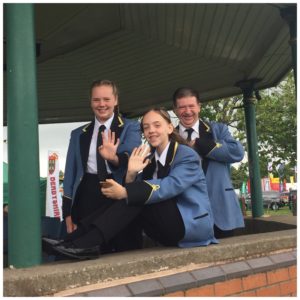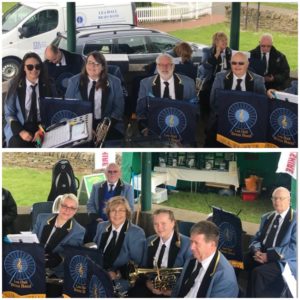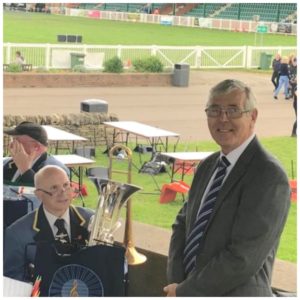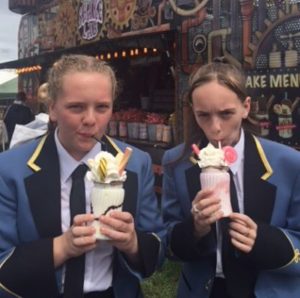 Sunday 28th April 2019 – We we're honoured to perform at the 2019 Anzac Day Commemoration Service on Cannock Chase, along with local organisations from across Staffordshire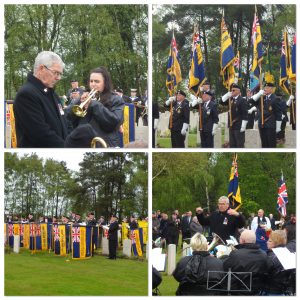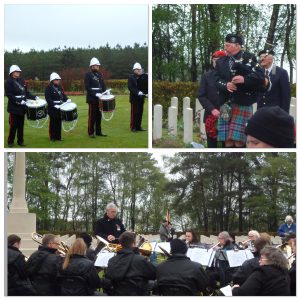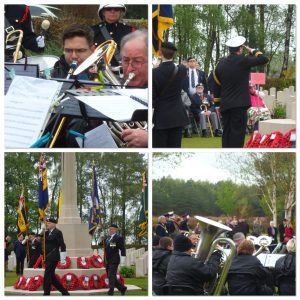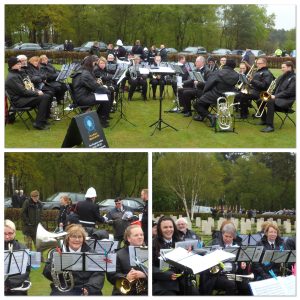 Final rehearsal before Easter tonight, can only mean one thing – CAKE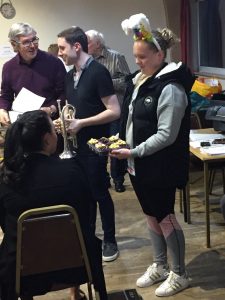 Reflecting on the time we played in the gardens beneath this beautiful and iconic landmark, our thoughts are with all in Paris at this time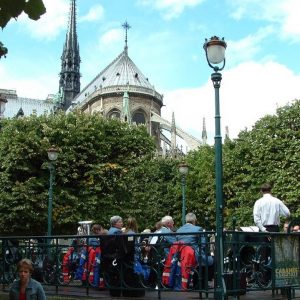 Saturday 6th April 2019 – the band were honoured to play for the Hilton-Main Miners Memorial unveiling in Featherstone, Wolverhampton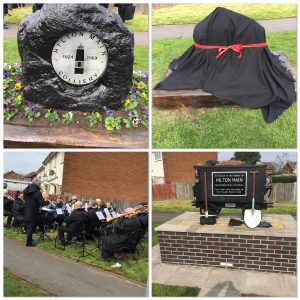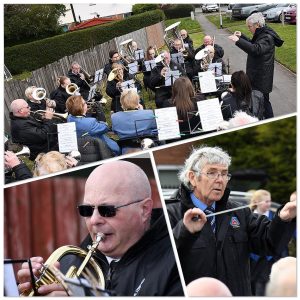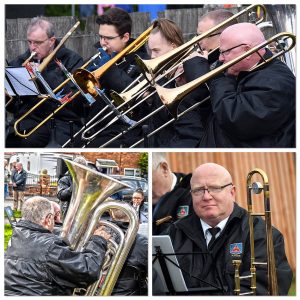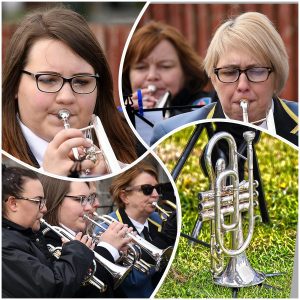 Having some fun at rehearsal under the direction of our M.D.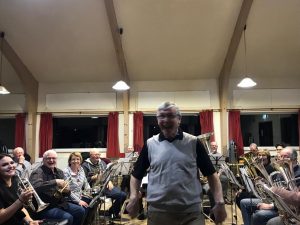 Final Concert of 2018 – a great end to the year performing for our friends at Victory Church, Rugeley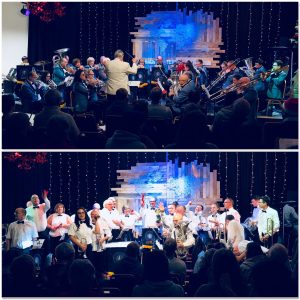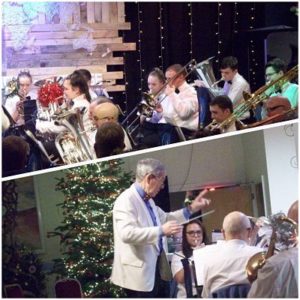 And our end of year party is always great fun…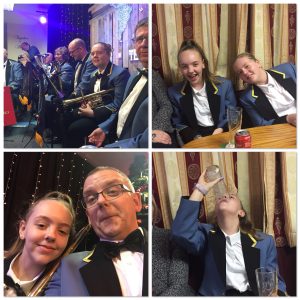 December 2018 – few snaps from our various Christmas Carol sessions across Staffordshire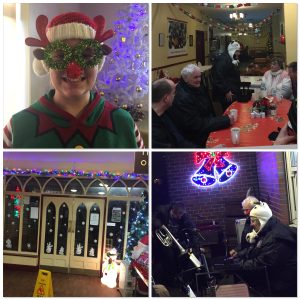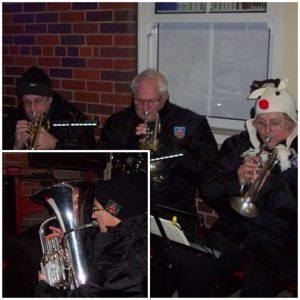 December 2018 – Lea Hall Christmas Fayre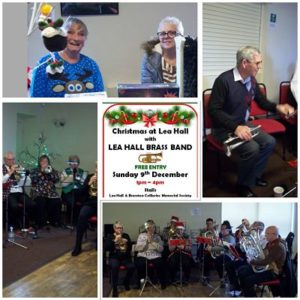 November 2018 – The Battle Is Over 'Beacon Lighting Ceremony' in Norton Canes marks The First World War Armistice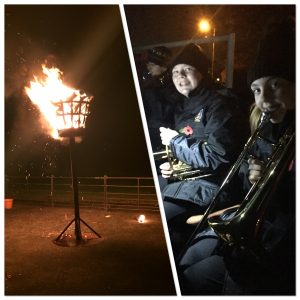 November 2018 -The Battle Is Over Festival Of Remembrance Rose Theatre, Rugeley marks The First World War Armistice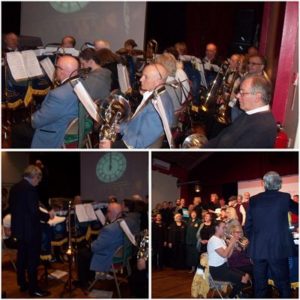 November 2018 – Remembrance Sunday Norton Canes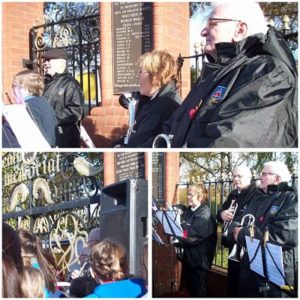 Autumn 2018 – Band Social daytrip to Blackpool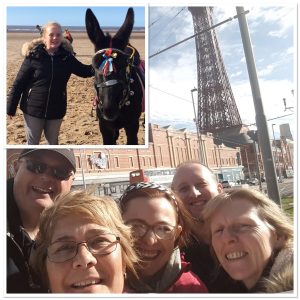 Autumn 2018 – St Pauls Church Concert, Rugeley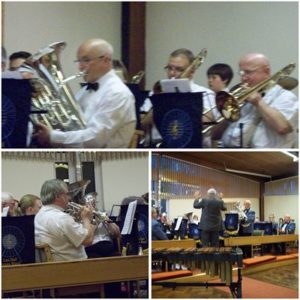 Halloween Fun in the practice hall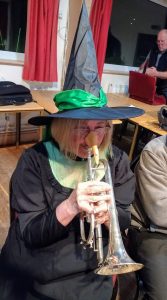 Our Support Team – half time refreshments at rehearsal just wouldn't be the same without them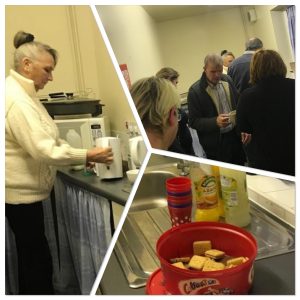 Summer 2018 – Trentham Gardens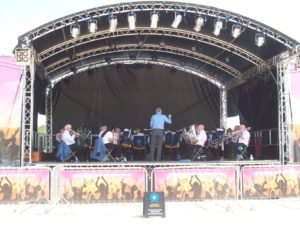 Summer 2018 – Northycote Park Farm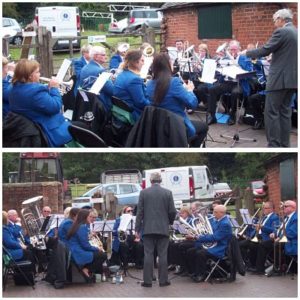 Summer 2018 – Hednesford Festival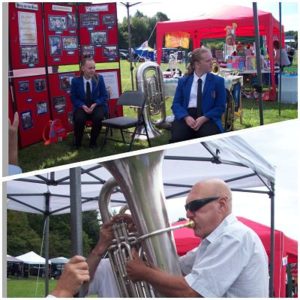 Spring 2018 – Private Wedding at Pendrall Hall, Wolverhampton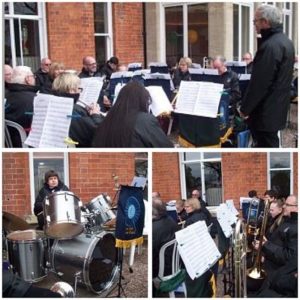 Spring 2018 – Anzac Day, Cannock Chase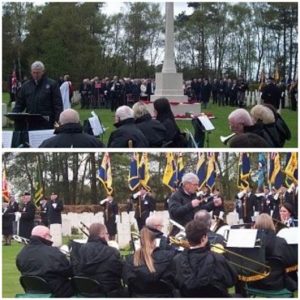 Three years ago, we launched our Bring On The Brass recruitment programme in order to assure Brassbands have a sustainable future across Cannock Chase and surrounding area. Here is a link to some highlights from that first campaign.